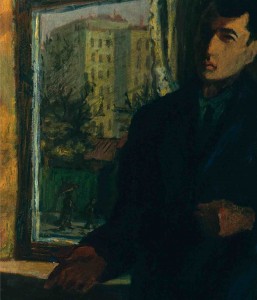 Zusman, Leonid Pavlovich
(b. 1906 Grodno – d. 1984 Moscow)
Painter and graphic artist
1919–1923 – Studied at the private studios of F. Rerberg and A. Miganadjian in Moscow and audited classes at the First State Free Art Studios under I. Mashkov.
1924–1926 – Studied at Vkhutein [The Higher Art and Technical Institute] in Leningrad under K. Petrov-Vodkin.
1927–1929 – Studied at Vkhutein in Moscow under D. Shterenberg.
Took part in exhibitions beginning in 1928, including: 1928 – Fourth Exhibition of Paintings, Drawings, and Sculpture by OST [Society for Easel Painting]; 1929 – USSR Art Exhibition in New York; 1931 – art exhibition in Paris; 1938 – the Soviet exhibition in London; 1966 – first personal exhibition in Moscow; 1978 – second personal exhibition in Moscow.
From 1931 on – Worked as a book illustrator and designer, designed stage scenery for theaters in Moscow, Kiev, Odessa, and Rybinsk.
From 1944 on – Worked on the TASS Windows propaganda posters, as well as in various publishing houses and as an art director of Vokrug Sveta [Around the World] magazine.
1959 – Awarded a silver medal at the Leipzig Book Fair for his work on In Praise of Folly by Erasmus of Rotterdam.
"The thought that a painting's only value is in itself, is alien to me. I see its meaning in the images and associations it provokes; the more numerous and various they are, the more necessary the painting is. It also reflects the humans' great community and continuity that is reflected in the very fact that we, people of the second half of the 20th century, who fly gigantic airplanes, travel in space and land on the Moon, can find pleasure in a simple and beautiful sight of a plate filled with peaches with tender velvety skin, with shades of pink and blue, or a white jar with blue ornaments and a bouquet of flowers — the same sight that might have delighted an artist who lived three centuries ago, wore a powdered wig and silk trousers, believed in God and honoured his King."
Leonid Zusman, 1978
S.I. Balashov. Leonid Zusman. M.: Agey Tomesh, 2004. P. 16. (Novaya istoriya iskusstva [New History of Art]).