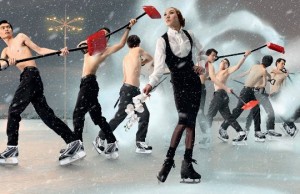 In calling their work Allegoria Sacra the artists are warning the viewer that the subject is life and death. A person is invited to answer the question what is life, if it exists, and what is death. In the field of culture the answers are not obvious. The viewer is obliged to draw on their own experience of the dialogue with reality, or they agree to shift from metaphor to metaphor, gradually becoming participants in absurd, meaningless actions and in this way personally taking part in the definition of the metaphor of humankind and death.
Allegoria Sacra submerges the viewer in a state of endless and selfless recognition of meanings but the procedure of extracting information for information's sake long ago became a means of simulating culture. In the work one can clearly see the features of symbolism — a new version of that popular medieval mechanism of culture. The transfer of meaning from one subject to another and the identification of the shadows of meaning became a natural form of the existence of culture. The work imitates the general condition and declares multiculturalism but in fact it conceals the disconnectedness and the absolute conditionality of its acts. Popular contemporary culture shies away from the the need to discern actual meanings, to distinguish life from death. In this way culture supports the equality of everything which it sees within itself, of that which exists in its dictionary. In the contemporary art space the declarative nature of the artistic statement replaces direct action and it is sufficient to entrust it to commentators, or even to the faceless flows of the media, in order that it becomes a definite cultural event without taking on any real form and while retaining the characteristics of a ghostly existence.
The image of the old man in a coma brings to mind Nietzsche's statement that God is dead. It is not so in the contemporary world. The world sees itself as being realised through the media. On every screen it is resurrected and exists, its reality personified by media rituals, structured, formed and filled with the meaning of suspended being. Humankind finds itself as if on the other side of 'real' life. Life takes on the meaning of a consumer product. It becomes an object of desire. Waiting, which defines the atmosphere of the airport as an entire religious-ethical complex in real time, forces us to observe the actions of a brigade of reanimators and pay attention to the fact that not only Nietzschean thought but the entire 20th-century existential tradition now resides in the margins of intellectual life.