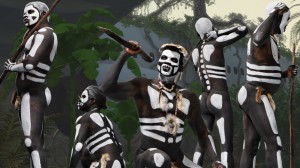 Since thou, O Lord, approachest us once more,
And how it fares with us, to ask art fain,
[…]
Excuse me, fine harangues I cannot make,
Though all the circle look on me with scorn;
My pathos soon thy laughter would awake,
Hadst thou the laughing mood not long forsworn.
Then Mephistopheles compares humankind with insects, like those born at the end of AES+F's story. Of AES+F's recent works, Allegoria Sacra parodies the seriousness and pomposity, with which the spiritual life of modernity distinguishes itself. The parodic reference to medieval scholasticism, the declaration of the semantic spaces of Purgatory, Heaven and Hell and the nod to Dante or to Goethe are all used in order to speak about the present. For that reason, together with Goethe and before Dante, we see characters from Stanley Kubricks '2001: A Space Odyssey'. Throughout the work runs the cold nerve of A Clockwork Orange' and it behoves the viewer to tune in to this frequency. They will see the dead twin girls from 'The Shining' appearing before their eyes at the end of the hotel corridor saying, 'Come and play with us Danny, forever and ever and ever'.
Allegoria Sacra is not so much narrative and literary as musical and melodic. Music is an important component of the work. Vivaldi's 'Stabat Mater' refers to the Baroque musical tradition which has, perhaps, found its embodiment in opera, a genre which presents the possibility for an extreme expression of desire, but the memory of the limitless sensuality of Baroque art is in sharp contrast to the impassiveness and lack of sensuality of the participants in the video.