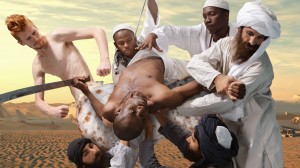 At the Cross her station keeping,
stood the mournful Mother weeping,
close to her son to the last.
Through her heart, His sorrow sharing,
all His bitter anguish bearing,
now at length the sword has passed.
In the airport building salvation requires a pre-emptive strike on the means by which contact is maintained with the outside world. In this context 'Stabat Mater' sounds like a recollection of medieval sources of that sequence which is connected with the traditions of flagellant processions:
Holy Mother! pierce me through,
in my heart each wound renew
of my Saviour crucified.
But the ancient text, through whose words worshippers ask to share the sufferings of Christ on the cross, is transformed in to a meaningless repetition of oral texts in a dead language, a mishmash of sounds, a disconnected and inarticulate imitation of speech. As before, contemporary culture cannot speak and a dance begins. That which was the experience of flagellation becomes a choreographic study. The dance of death? In 1376 the poet Jean Lefevre stated 'Je fis de Macabre la dance' ('I wrote the Danse Macabre'). The dead can dance but they dance with the living or instead of the living and no trace remains of the sensations of the flesh — suffering, taking pleasure, and decomposing — which were of concern during the Middle Ages. Contemporary heroes are those of animation, the eternally dead Tom and Jerry, insensitive to the most refined tortures. Chopin's funeral march sounds like a joke at the expense of a certain macabre drama.